Last week it was discovered that the highly anticipated Safex Affiliate Programme was soft-launched and is now accepting new applicants.
The program, aimed towards social influencers, website owners, and anyone passionate about CryptoCurrency and Safex, offers 5% commission on all sales made through your affiliate link.
The commission is paid either in the form of Safex Coins or Bitcoin; you can switch between these options at any time.
How to register for the Affiliate Programme
You can access the affiliate sign up page here. The welcome page explains the commission you can earn from all sales using your affiliate URL.
Click the Continue button.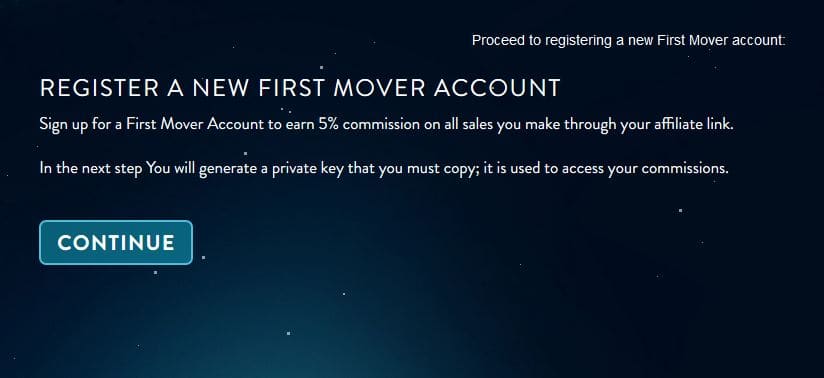 On the next page, you will be given a private key. It is incredibly important you save this private key as it will be required later for you to log into your affiliate dashboard.
ENSURE YOU SAVE A COPY OF THIS PRIVATE KEY – IF YOU LOSE IT YOU WILL LOSE ACCESS TO YOUR AFFILIATE ACCOUNT AND WILL LOSE ANY COMMISSION EARNED.
Once you've read the warning about the private key, and read the First Mover Agreement, tick the confirmation box, and click "Proceed to account registration".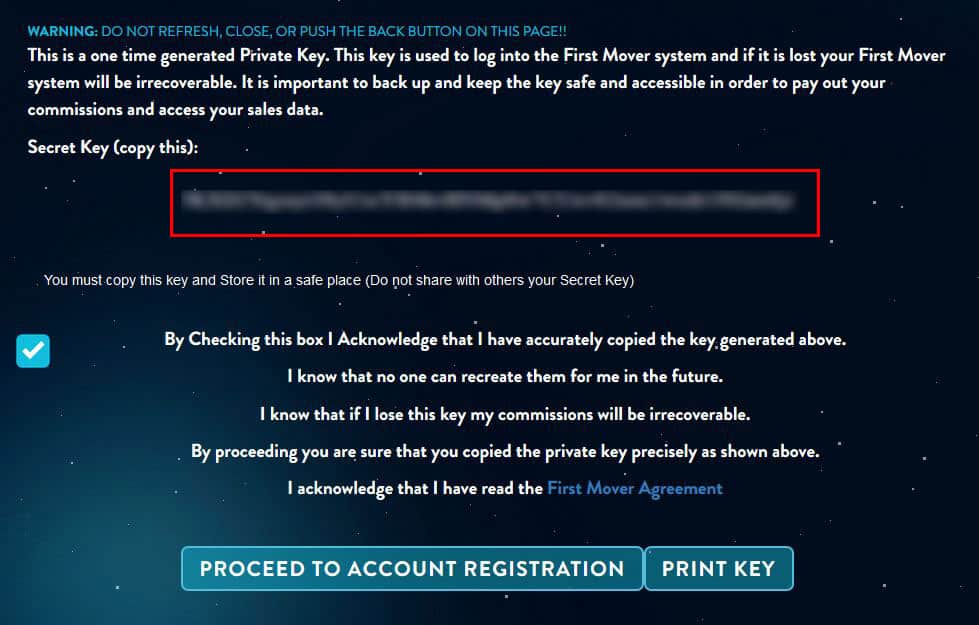 The next page will ask you to register your details. This is to prevent spammers and people creating hundreds of accounts with no intent of using them.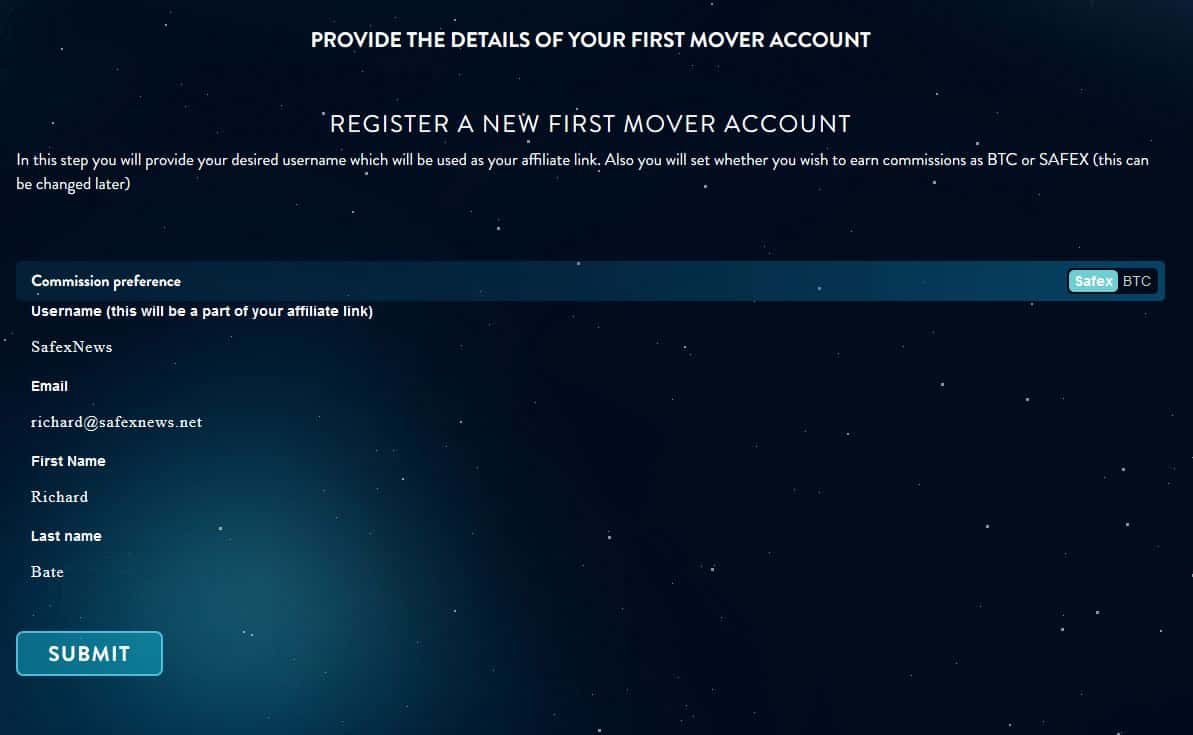 Note – when picking a username, it will also be used as part of your affiliate URL (EG: username is "SafexNews", your affiliate URL will end /SafexNews/.
Once you've filled in the details, click the submit button.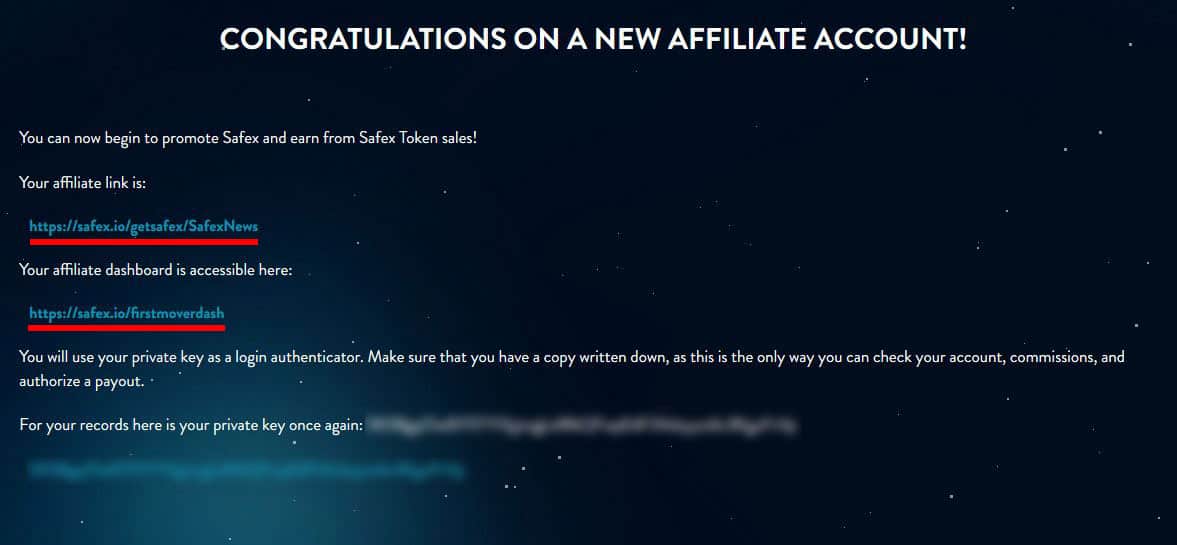 Congratulations – you've set up your Safex Affiliate account. You will see two URLs/Website Addresses (highlighted above). The first is your affiliate link. This is the link you put in your website content, social media posts, and wherever else you may think it will be of benefit.
How to access the affiliate account dashboard
To access the affiliate dashboard, simply visit https://safex.io/firstmoverdash. Bookmark this page!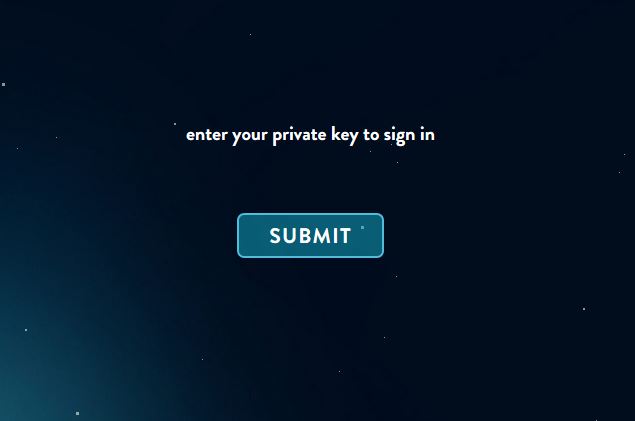 Remember the private key you was given when creating your affiliate account? (if you've followed the instructions, you will have made multiple backups/copies of this key).
Enter your affiliate private key in this box, and click submit.
Important note 1 – make sure you are on the official safex.io website – do not enter your affiliate private key on any website other than the official safex.io website affiliate dashboard.

Important note 2 – this requires your affiliate private key – not your wallet private key.

Important note 3 – if you lose your affiliate private key, you will lose access to your account. The Safex team will NOT be able to recover this key for you.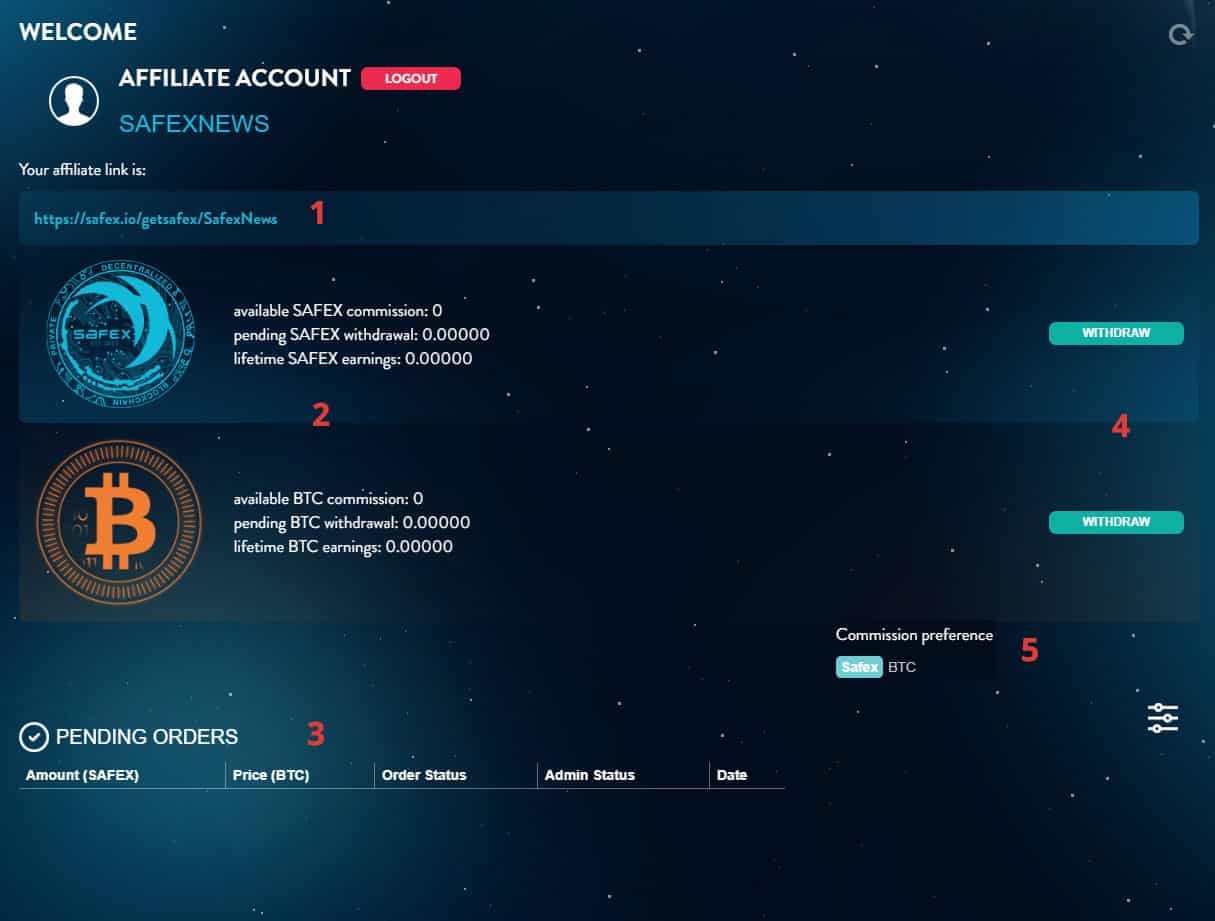 1. A reminder of your affiliate address/URL – use this address in your marketing content
2. Your commission balance(s)
3. Pending Orders – an overview of all orders and their status from the sales made with your affiliate code
Available Commission – How many SAFEX or BTC coins you have available to withdraw.
Pending Safex/BTC Withdrawal – How many SAFEX or BTC coins are due to be deposited to your wallet (see 4) – this can take up to 24 hours to process
Order Status – The status of the order made by your affiliate referral; eg. Awaiting Payment, Payment Received etc.
Admin Status – The status of the order from the sales point of view; eg. Sent Safex, Awaiting sending Safex etc.
Date – The initial date of when the transaction started
4. Withdraw – Enter the public address of the SAFEX or BTC wallet you would like your commission to be paid in (make sure it's the correct address!)
5. Commission preference – Switch between earning either SAFEX or BTC as your commission.
How to use your affiliate link
This is where the hard work comes in!
There are many ways you can promote your affiliate link. For example, do you regularly participate in cryptocurrency and blockchain topics on Social Media? Where applicable, your link may be useful here.
Run a website or a blog? You can include your link within your content about Safex.
The key to a successful affiliate campaign is to add value for the reader – make your content accurate, up-to-date, and not overly hyped or promising insane returns.
Feel cryptocurrency is under-represented in your main language or country? Why not develop content focusing on that particular audience.
Ultimately it's down to you on how you promote your affiliate link. The more effort you put into it, the more earning potential you gain.