Buy Safex Coins
The ultimate guide how to buy and invest the Safe Exchange Crypto-Revolution!
Safe Token
Note – Safex Token is built on the new Safex Blockchain.
Safe Cash
Note – Safex Cash is built on the new Safex Blockchain.
Note – This section is still under construction and is being updated daily.
This article has been written to benefit those who want to buy Safex coins and become Safe Exchange Market Investors.
For ease of use, this article is split into several sections.
If you're completely new to crypto-currency, we recommend you start here.
If you've got some experience with crypto-currency and hold some Bitcoins, start here.
New to Cryptocurrency – Buying your first Bitcoins
At first, getting into Cryptocurrency may seem a very daunting process. However, once you understand the basics, it's actually a very simple story.
For most countries, the simplest way to get "on-board" with Cryptocurrency is through an Exchange called Coinbase.
Coinbase is very simple and easy to use for a crypto first-timer. They have both a web and a mobile app for your convenience. For simplicities sake, we recommend you use their web app to register and verify your account.
First thing, you need to make sure you have some form of identification.
This is because Coinsbase is regulated under some strict Know-your-Customer and Anti Money Laundering regulations. Don't be too worried about it.
This is a standard requirement for most financial platforms. To start with, you'll need:
A Credit or Debit Card (Registered to the address you give)
A form of identification (again, registered to the address you give)
If both your Credit/Debit Card and your identification match names, address etc, then you shouldn't have any problems getting verified.
1. Register with Coinbase
Click this link to be sent to the Coinbase registration page.
2. Get your Coinbase account verified
It's important to get your Coinbase account verified before you purchase any Bitcoins. This is to avoid any unexpected delays or surprises. It shouldn't take too long to process.
Normally this requires you to scan your identification and upload it to their system. It is important that your identification matches your credit/debit card and the address you registered with.
The on-page guide should help you step-by-step. However, if you're struggling, Coinbase has put together a helpful guide to getting verified.
3. Buy some Bitcoins
Now comes the fun part. Buying the Bitcoins. By now you should have linked a payment source to your Coinbase account (either a Credit or Debit card). The next steps are pretty simple. From within the Coinbase page, click the Buy/Sell button at the top menu.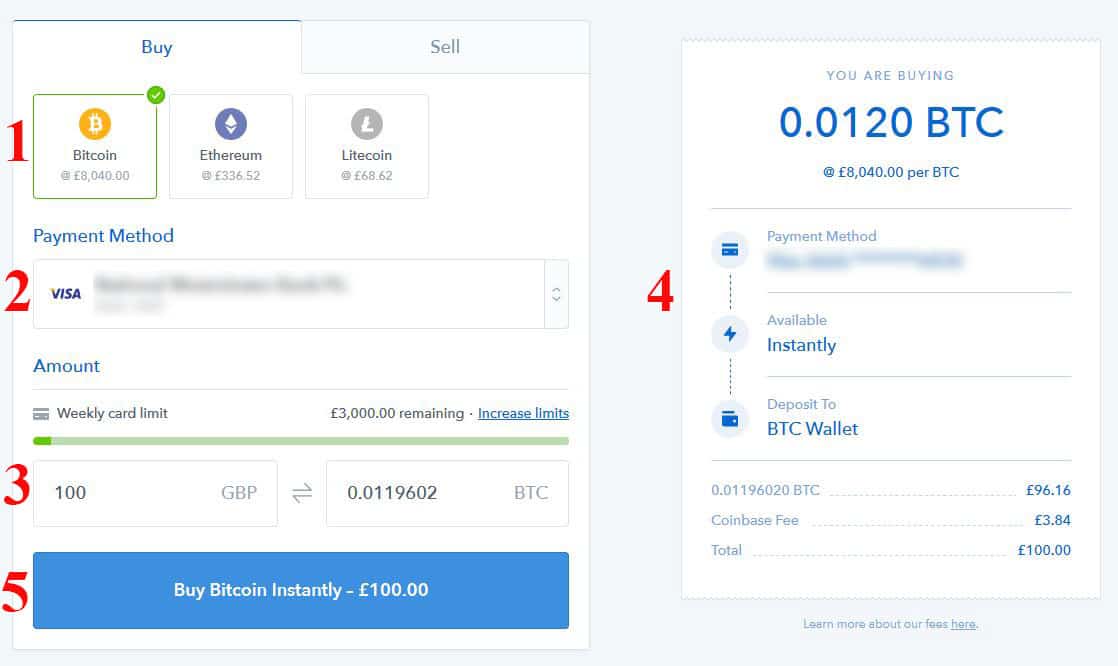 1. Select Bitcoin – at the moment, the only way to buy Safex Coins is with Bitcoins. As soon as alternatively cryptocurrencies are accepted we will update this article accordingly.
2. Select Payment Method – If you successfully made it through the verification process your payment source should be listed here.
3. Select Amount – You can either choose how much of your local currency you want to spend, or a specific amount of Bitcoins you want to buy. Keep in mind for new accounts your card limit is around $500. This limit increases over time the more you spend with them.
4. Review your order – Please check review your order before pressing the buy button. Coinbase summarises your purchase on the right hand side of the screen. It breaks down exactly how many Bitcoins you will get, the fees involved, and how much it will cost you in your local currency.
5. Buy Bitcoins – You will then be directed to a Verified with Visa. Instructions vary from bank to bank but follow the instructions given.
Congratulations. You now own Bitcoins!
From here you can now move to the next stage. Buying with Bitcoins.
Setting up your Safex Wallet
This stage is a little more complicated, but if you follow the guide you should be on your way to becoming a Safex investor.
This process is the simplest way to get hold of Safex tokens
.
You don't need to register with an altcoin exchange, nor do you need to hand over your Bitcoins for them to handle. If you've been following Daniel Dabek, founder and CEO of Safex, you'll know he's a big advocate of keeping his cryptocurrency off the exchanges.
At this point we'll assume you're holding some Bitcoins, either in your Coinbase wallet, or on a separate software wallet. If you don't, it might be worth reviewing the section about buying Bitcoins with your local currency.
But first, before we even buy any Safex Coins, we need to set up our Safex Wallets to hold our newly purchased coins. It is important that you set up a Safex wallet before buying any Safex coins otherwise you may risk losing them.
1. Downloading the Safex Wallet
Go to safex.io and find the downloads section in the upper menu. It has wallet versions for Apple OSX, Microsoft Windows, And Ubuntu. Simply click on your operating system of choice and wait for it to download. Once downloaded install the wallet.
2. Running the Safex Wallet
Once the install has completed, you should find a shortcut to the wallet either on your desktop (Windows) or your application folder (OSX and Ubuntu).
Double click on the wallet to execute it.
Assuming this is the first time you've run the Safex Wallet, you will now be given the choice to create a new wallet, or import an existing wallet.
Click New Wallet.
It will then prompt you to create a password for your wallet. It is important that you create a secure yet memorable password, made up of letters, numbers and special characters.
There is a guide on how you can create a strong yet memorable password here.
Remember, if you forget your wallet password then you might lose access to your Safex Coins (unless you back up your private keys – more on this later).
Once you've decided on a password you'll be passed through to the main wallet interface. For ease of use the wallet automatically generates you your first wallet address.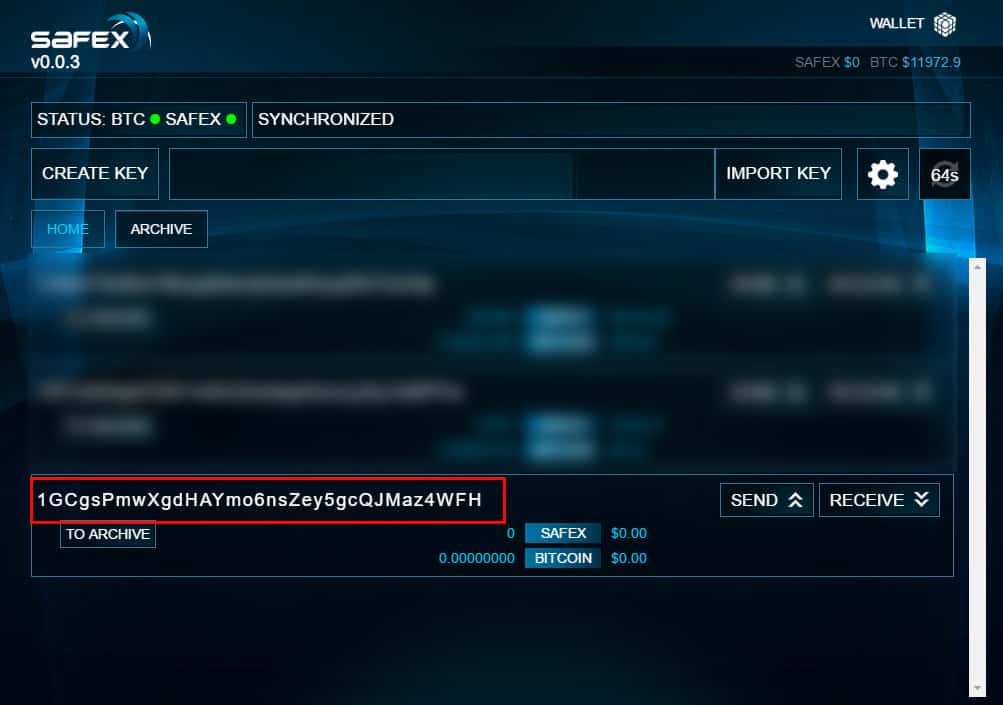 Next, you will need to grab your public key. This is highlighted in red in the screenshot above. You will need this public key for when your ordering your Safex coins later.
At this stage you're ready to purchase some Safex coins. I recommend you now jump to the Buying with Bitcoins section.
Buying Safex with Bitcoins
NOTE – This section is due to update in line with the upcoming Safex website update.
This stage is the most important for any aspiring Safex investor. It is important that you have access to your Bitcoins and your Safex Wallet. If you don't have access to the above, it is important you review the previous two sections:
For a first time crypto-investor this stage may get a little complicated, so being prepared is key to your success. With both your Coinbase and Safex Wallets open, go to https://safex.io/.
From the homepage, find the "Get" button on the top menu (see image below).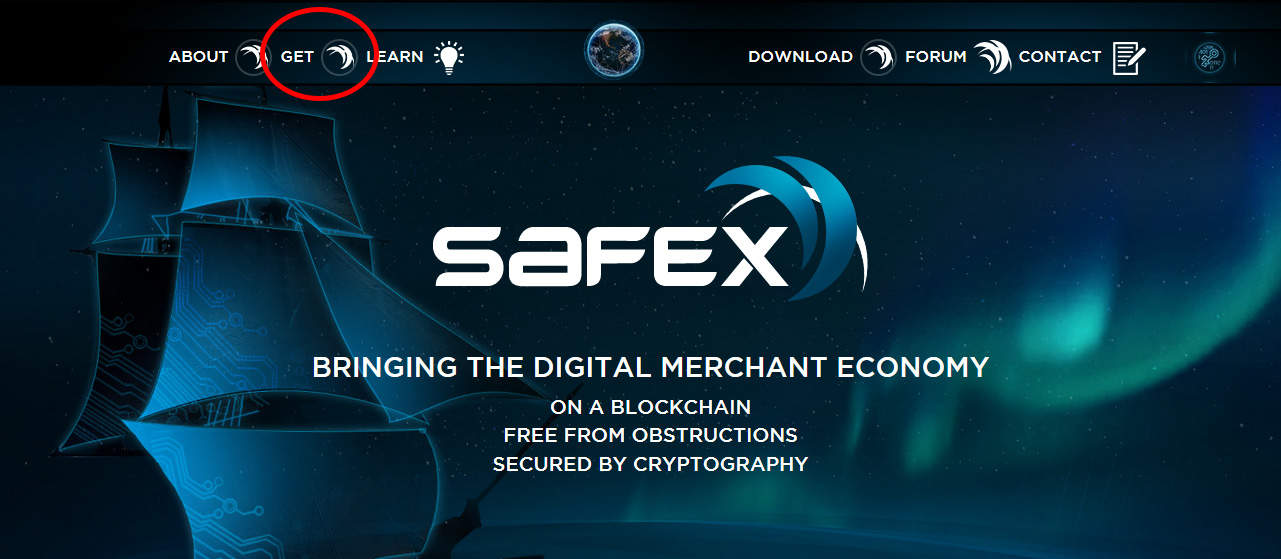 You will then land on a page entitled "Aquire Your Safex Coins Now".
There are two icons. The bitcoin Logo and the Safex Logo.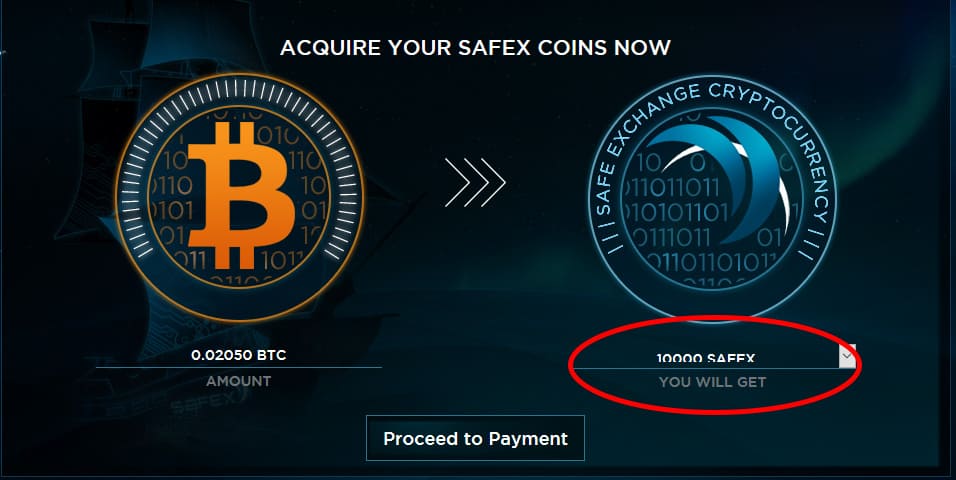 Under the Safex logo, click the drop down menu and select the amount of Safex you wish to purchase. The Bitcoin value on the left should adjust according to how many Safex Coins you are buying.
Once selected, click Proceed to Payment.
The next page will give you two options. Option 1. Use My Key, and Option 2. Make a New Key.
Click Option 1. Use My Key.
You will next be asked to enter your Safex Public Key. This is the key that we generated in the wallet back in the previous section.
Paste your Safex Public Key in this box. It is important that you double and triple check your address is correct and not missing any letters or numbers.
Once you've entered and checked your private key, read the information on the page. Once you're happy you understand everything, check the tick box and click Proceed to pay.
Note – The next stage is time sensitive so make sure you've got access to both your Bitcoin Wallet now!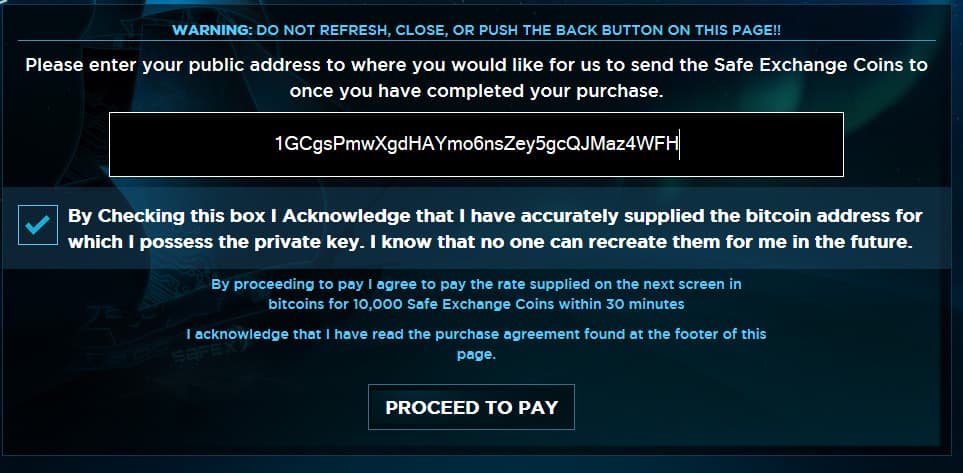 The next page will give you instructions on how to pay for your Safex Coins. The address given on this page is the address you need to send your Bitcoins to.
You have 30 minutes to initiate the Bitcoin transaction otherwise the value will need to be recalculated.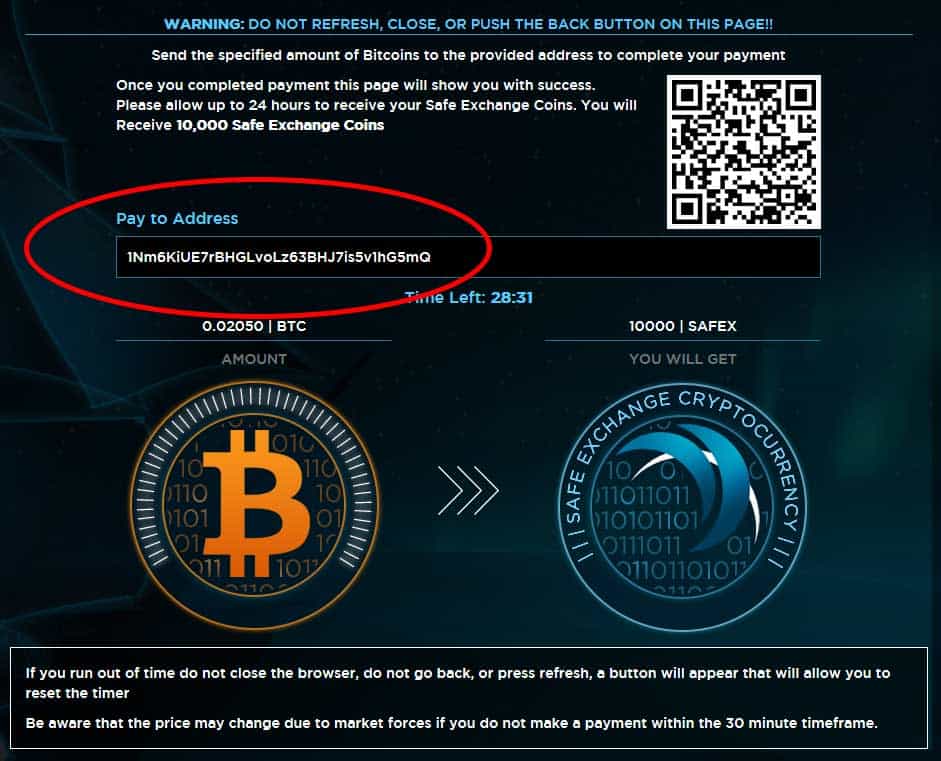 If you've followed the guide from the beginning and have Bitcoins sitting in your Coinbase Wallet, this next stage is for you.
If you've got your Bitcoins held in a software wallet, we'll assumption is you know what you're doing at this stage.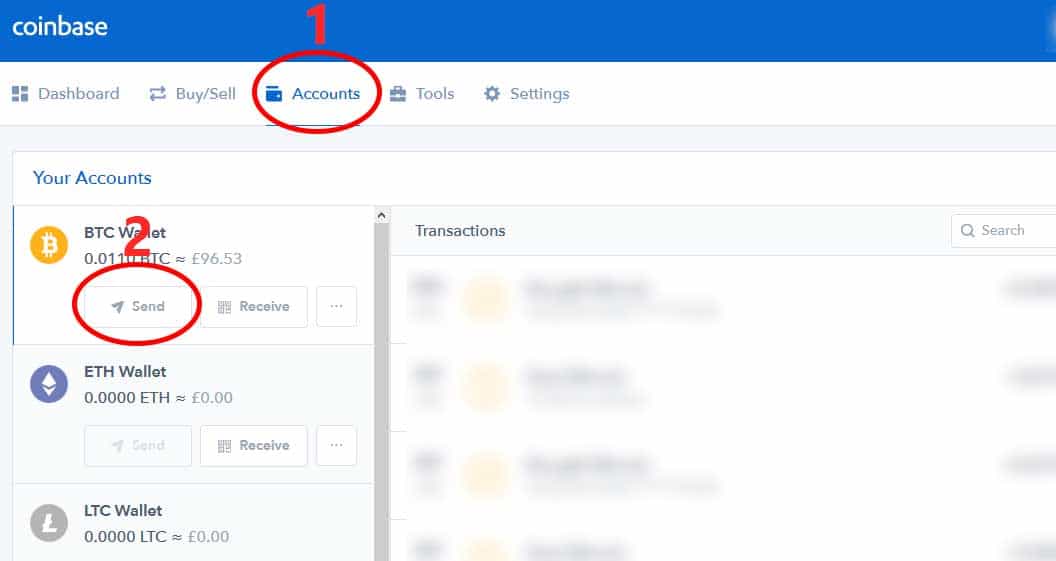 Back in Coinbase, click the Accounts button on the top menu (fig 1).
Next, click the Send button (fig 2) in the BTC Wallet box.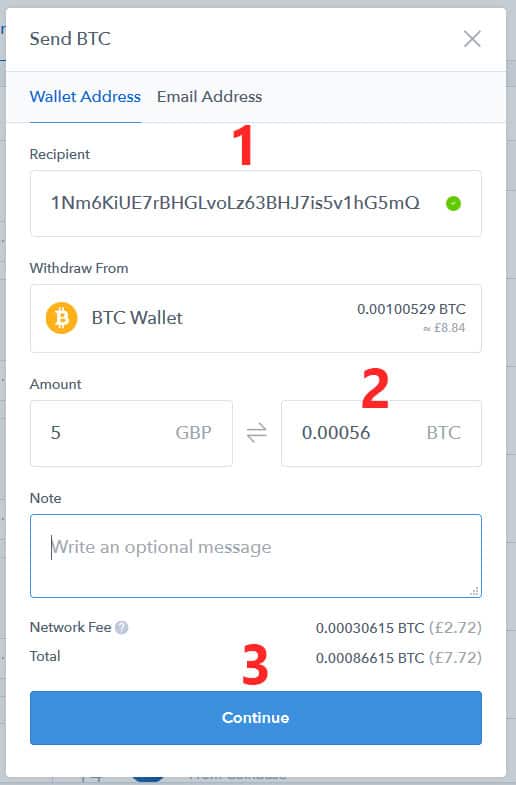 1. Enter the BITCOIN address given to you from the Safex website. Again, it's important you double check this address is correct.
2. Enter the exact amount of BITCOINS as mentioned on the Safex website. It's important that you hold more Bitcoins than is required to cover the transaction fee.
3. The fun part. Press Continue. Depending on your security settings, Coinbase may email or SMS you a confirmation code which you must enter to submit the payment.