This weekend Daniel will be attending and presenting at the Bitcoin and Blockchain Fair in Sydney, Australia.
Bitcoin and Blockchain Fair provides a platform to educate, interact and engage with all areas of the crypto currency and blockchain technology sectors FinTech, Investment, Superannuation, Education, Venture Capital, Regulations, Best Practice, ICO's, Platform Services, Bitcoin and Crypto Exchanges, Digital Wallets, Crypto currencies, Utility Tokens, Smart Contracts, the current opportunities and what the future holds.
Noted as the VIP International Guest Speaker, Daniel will be covering several key topics including privacy, security, and mass adoption of blockchain technology.
The event spans over two days comprised of keynote presentations, forums, and technology exhibitions.
Australians make up around 35% of the traffic on SafexNews.Net and are a huge part of Safex Community. We hope you enjoy the event and gain a lot from the presentations and exhibitions taking place.
Day 1

Topic: Why we should use CryptoCurrency and the road to mass adoption
Time: 3:45PM UTC+10
Day 2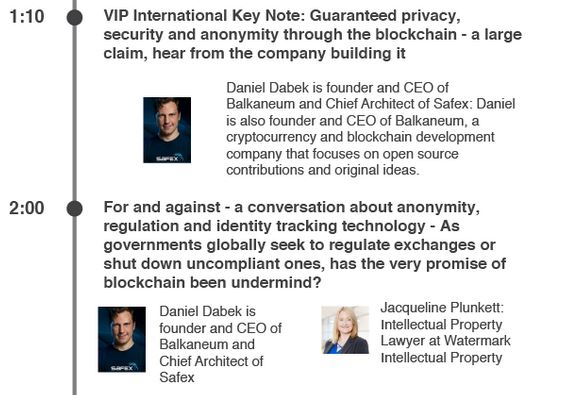 Topic: Guaranteed privacy, security, and anonymity through the blockchain
Time: 1:10PM UTC+10
Topic: For and Against – A conversation about anonymity, regulation, and identity tracking technology
Time: 2:00PM UTC+10
Unfortunately, the events will not be streamed live. We're unsure if it will be filmed and uploaded to YouTube, but if it is, we'll circulate the links via Twitter and this page.