This week Pavle and Daniel have been asking the community for feedback on the upcoming Safex Website Redesign. Overall community sentiment is highly positive, with minor aesthetical suggestions being the general feedback.
Although the Safex team has been tight-lipped on what will be released along with the website redesign, Daniel and Pavle has teased us with a few details:
Blog – Regular blog posts with updates, behind the scenes, events and more
Media Kit – Brand guidelines, logos, colours etc. Most likely for affiliates, marketers. Very useful to promote a consistent and accurate brand message
Affiliate System – A lot has been speculated about this. Further information will be available in a future post
Safex Whitepaper – The much anticipated Safex Whitepaper MIGHT be released along with the website re-design. This is pure speculation
Updated Roadmap – Again, not much has been mentioned about this, but the redesign screenshot suggests a dedicated Roadmap page
Safex History – Kind of in line with the updated roadmap. It was suggested on the Discord channel that they will be adding a "History of Safex" section on the site, documenting where they started and how they got to where they are now.
Safex Statistics – Again, pure speculation, but it looks like they'll be showing some live high-level statistics about the Safex distribution
Revised Safex Calculator – Nothing new about the Safex Calculator, but it might be interesting to know if Daniel has updated the Economic Model to factor in the possibility of lost Safex coins and those that never get converted to the new blockchain
Safex Newsletter – Unconfirmed. The redesign screenshot suggests that Safex will be publishing regular newsletter updates. Very useful for those investors that don't have time to sit on Discord all day!
Overall we're all very excited for the future Safex website design. Community sentiment is highly positive.
When will the redesign be launched?
Daniel hasn't given us firm dates on the redesign. My guess is that Daniel is holding back, waiting for the right opportunity to release to get the biggest market impact. Currently Bitcoin forks and other market FUD nonsense is taking the headlines, meaning Safex news will just get lost within the noise.
For the biggest impact it would make sense that the redesign is published along with the Blockchain Alpha and Whitepaper releases. If that was to happen, we would expect release around late-November, early-December.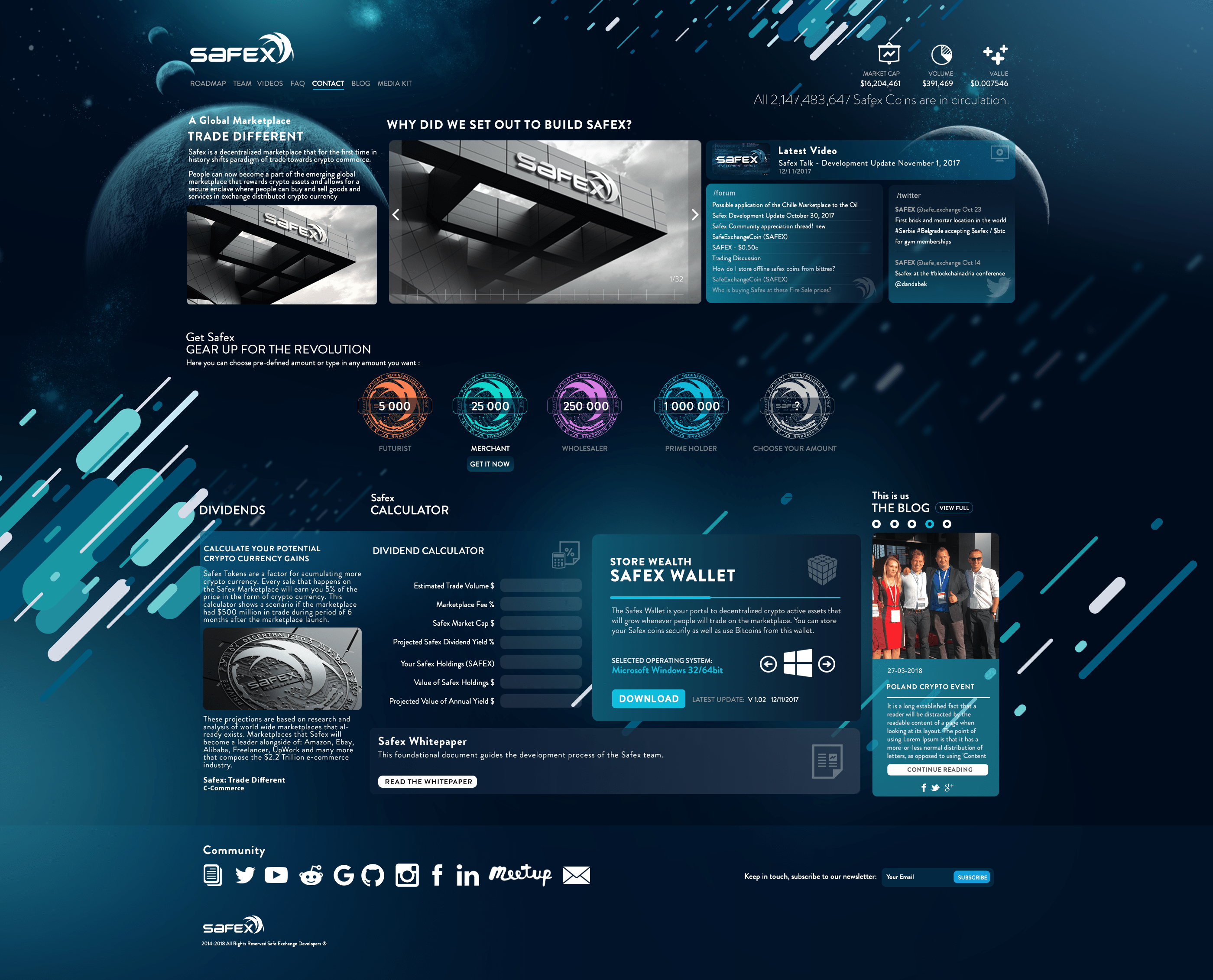 Convinced about Safex? Here are some of the exchanges you can get Safex.
We've also put together a helpful guide on how to buy Safex.