The Chille Blockchain is deep in development, with a speculative release date for "Alpha" around late November or early December.
However, Daniel recently teased the idea of shuffling and consolidating the Safex and Chille Coin branding.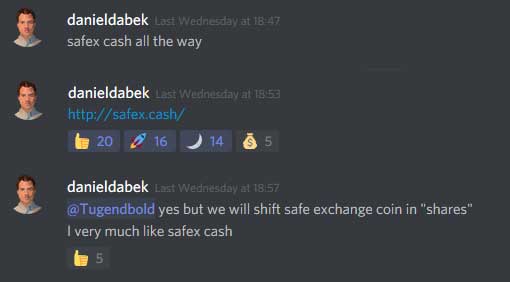 Safex Cash all the way. http://safex.cash/. We will shift Safe Exchange Coin in "Shares". I very much life Safex Cash.
Of course, this his pure speculation. However, as Dan suggests, it would make sense to keep everything within the Safex branding. Safex Shares, for the dividends based token, and Safex Cash, the currency used on the market place.
Response from the Discord community was overly positive. In the past a few have questioned the future for the "Chille" brand, especially with its uncanny resemblance with the Coca Cola logo font.
Do you like the name SafexShares and SafexCash? Do you have a better idea? Share in the comments below.
Update: Daniel confirms the community will be able to vote on this in December. Read more.
Convinced about Safex? Here are some of the exchanges you can get Safex.
We've also put together a helpful guide on how to buy Safex.