There's no doubt that McAfee is incredibly passionate about the crypto movement, and he's especially passionate about crypto projects that have real world use cases that have the potential to impact the lives of everyday people.
McAfee will often talk about hidden gems; projects he believes in and have huge potential. Late last year, John McAfee mentioned that Safex was one of his largest cryptocurrency holdings. This was back when Safex got delisted from Bittrex and Cryptopia, and there was much uncertainty about the long-term viability of Safex.
In fact, I own more SAFEX than Bitcoin. So. Trust me, I was not trying to dis SAFEX. An excellent coin. It just did not come to mind as I searched my memory for the older and more established privacy coins. Or maybe I just didn't want anyone horning in on my secrets:)

— John McAfee (@officialmcafee) December 15, 2017
Disclaimer: SAFEX is the majority of my holdings. I ran numbers for weeks before I chose it – knowing it had technical problems and that it would be delisted from most exchanges. But I have, to my knowledge, never lost money on an investment. But take this with a grain if salt.

— John McAfee (@officialmcafee) December 15, 2017
Indeed. But $3 000 will biy 300,000 SAFEX Coins. That's already an obscene amount and way beyond greedy if my prediction is correct. That's iver 100 million dollars.

— John McAfee (@officialmcafee) December 15, 2017
When accused of attempting to pump the price of Safex, McAfee responded:
Ni sir. This is a three or four year play. But I promise, in the long term m, it will outperform Bitcoin by a factor of 5. It will break all records. Don't ask me to explain. Your lucky to get this:)

— John McAfee (@officialmcafee) December 15, 2017
I have no interest in dumping. SAFEX is a serious long term play. I have zero interest in the ephemeral nonsense of short term minds

— John McAfee (@officialmcafee) December 15, 2017
Get fucking real. There is no amount of money that could make me say something I do not believe, or something I think may not happen. In three years, you will be crying because you did not sell your house and put everything you have into SAFEX when it was just a few pennies.

— John McAfee (@officialmcafee) December 15, 2017
A few month pass and accusations of McAfee being paid to promote coins come up. This was a question raised with Daniel Dabek in a recent Q&A, which Daniel denies.
John found out about the Q&A and mentioned it in a recent Tweet. He confirmed that although he charges to promote ICOs, he is never paid to promote coins.
AMA with CEO of Safex. When asked whether he paid me to recommend Safex he truthfully replied no. I consistently report that I have never been paid to recommend a coin. Who would pay me? It's stupid. For ICOs and everything else, of course I get paid. Lotshttps://t.co/hpqnMpr55e

— John McAfee (@officialmcafee) April 22, 2018
A few month's pass and the subject of Safex is raised again with McAfee. When asked if he's still holding Safex, McAfee replies with this picture: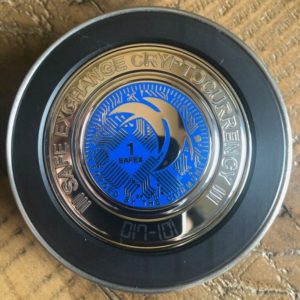 A few weeks later, when asked for a price prediction of Safex, McAfee responds with this gem of a prediction:
$5:00 by August 10th.

— John McAfee (@officialmcafee) May 30, 2018
When asked about his top long-term coins, he responds with this list:
Safex
EOS
SETHER
BEZOP
DOCADEMIC

— John McAfee (@officialmcafee) June 15, 2018
Again, when accused of pumping coins or recommending coins and forgetting about them, McAfee reconfirms his feelings about Safex.
Safex is still my largest holding. Relax. I'm a long term investor.

— John McAfee (@officialmcafee) June 15, 2018